You're considering painting the exterior of your home. Although it is a large task, you might be able to complete it on your own. But is it? You might want to employ an expert. When considering whether to DIY or hire a professional for exterior home paint application, take into account the following factors.
When to Use Your Own Effort
When You Have Exterior Painting Experience - You might be able to paint the exterior of a house once more if you've done it before. Even though painting isn't particularly complex, it does require some knowledge and expertise. If you intend to do it yourself, it is imperative that you have a basic understanding of choosing the appropriate paint color and dealing with loose paint.
When the Job Isn't Too Big - DIY exterior house painting might be a viable alternative if your home is on the smaller side or if you simply need to paint a portion of it. When working on a DIY job like painting the exterior of your home, you must be comfortable with a paint sprayer, lead paint, and a wire brush.
When You Have the Time- As soon as you have the time It will take days or perhaps weeks to paint the exterior of a house, which is a significant job. Before you begin, be sure you have the necessary time. Keep in mind that you must allow enough time for the freshly applied coat of paint to cure before moving on to the subsequent outside painting stage.
When Your Budget Is Tight- A professional painter's services can be pricey. DIY painting may be the best option for you if money is short. Even though doing it yourself can save you money, if you make any mistakes along the road, it could end up costing you much more.
No Cracks, Holes, or Other Defects on the Exterior of Your Home - Painting your home's exterior should be simple if it is in good condition and has no cracks, holes, or other damages. However, if there are any damages, you might wish to get them fixed by a professional before painting.
When to Hire a Professional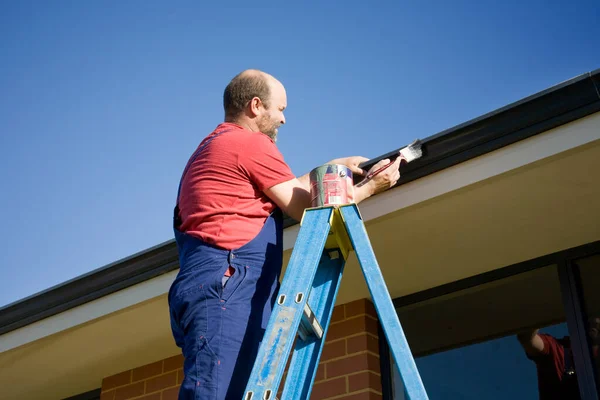 If You Have No Prior Experience Painting the Exterior of a Home - It would probably be advisable to employ a professional if you have never painted the house exterior. They have the skills and expertise to complete the task successfully. You can be sure that by doing this, your curb appeal will be improved.
If the Job Is Too Difficult - It's generally preferable to employ a professional if your house is big or you need to paint several different rooms. They have the personnel and materials necessary to complete the task promptly and effectively.
If You're Too Busy - It's definitely advisable to employ a professional if you don't have the time to dedicate to painting the exterior of your home. While you concentrate on other tasks, they can finish the job. Keep in mind that painting a house's exterior takes time. To get the best benefits, make sure you have enough of it.
Landscape Will Be A Challenge – Painting your own home may be challenging if there is a lot of landscaping surrounding it. A professional will guarantee that the work is completed without causing any harm to your plants or flowers. To get the best results when painting the outside, they can strategically place the drop cloths.
Your House Needs Exterior Repairs - If the exterior of your home needs work, it's generally better to call a professional. They are able to simultaneously paint and repair your home.
It's a significant decision to hire a professional to paint the outside of your property. The ideal choice for your home can only be made if you take the time to carefully weigh all of your options. DIY or consult a professional? Your decision is yours.
The Final Verdict
The exterior of your home can be difficult to paint. But it doesn't have to be if you know what to do and have the correct preparation. If you choose to tackle this project on your own, be sure to utilize high-quality supplies and to educate yourself on the correct methods. You can also check out this blog post by Harmony Painting Denver to help you make the right decision about whether to hire a pro or do it yourself when doing exterior house painting.